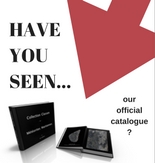 Classen Collection : the Origins
The beginning of an unic collection
OP
Collectionism : To gather, select, classify artificial and natural artifacts to create a private of public collection available for study and education.
OP

OP
OP
Norbert Classen has dedicated himself to the field of meteorites collection for over 20 years. Passionate about space since the very advent of spatial exploration, Mr. Classen has always been intent on sharing his knowledge. His passion was public and, as an avid lover of these extraterrestrial rocks, he has always sought to share his knowledge and discoveries, particularly by making his collection accessible to researchers and information for the general public.
OP
The Classen Collection is of great interest to amateurs and experts alike for its specialization on martian meteorites. When he acquired his first piece in the 90s, he set out to meticulously assemble all know Martian meteorites (paired or not), in an attempt to create the most complete collection in existence. As such, the most iconic Martian meteorites are here : Shergotty, Nakhla, Chassigny, (all 3 SNCs), in addition to Zagami, Tissint, and of course the most prized NWA 7533, or Black Beauty, which is currently te most studied Martian Meteorite and has yet to disappoint collectors and the scientific community.
OP
In the fashion of a 17th century European collector, diligently recreating the universe inside his Cabinet of Curiosity with a view to understanding mysteries of the natural world, this volume features Norbert Classen's collection. According to a typological classification of meteorites, each one is presented on a double page with a full and close-up view in order to reveal each piece's specificity. A short description includes the complete name, weight, and the year the piece was found for easy reference to its exact classification in the Meteoritical Bulletin. In the final index, the pieces are listed by name and category.
OP
The red planet reveals many splendid colors and forms beneath its crimson coat !
OP
- Luc Labenne
(Written by Justine Boyer)
OP
Home

Martian Meteorites

Classen Collection : the Origins
Sorry for the inconvenience.
Search again what you are looking for