History and Origines
History and origine of Norbert Classen martian meteorites's Collection, presented by Luc Labenne
OP
I will forever remember the day I first met Norbert Classen, collector, the man who would become one of my most active clients and dear friend.
OP
I was participating, as I have been every year since its creation, in the Meteorite Show that takes place annually in the historical city of Einsisheim, Alsace. Historical because this city is home to the museum displaying the famous Ensisheim meteorite that fell in 1492, the oldest observed fall in Europe.
OP
Every year in June, meteorite collectors and astronomy lovers from throughout the world rush to the city, suddenly overtaken by amateur and seasoned meteorite hunters, collectors, researchers looking to purchase, sell or trade  the most recent and exciting pieces.
OP
This was the décor for my first meeting with Norbert, passing by my stand with a radiant smile and discerning expression, asking me if I had a lunar meteorite to show him! I quickly realised that this unknown face was that of a fine meteorite connoisseur, whose sharp eye had been set on the most difficult domain of meteorite collections, the Moon, Mars and planetary meteorites.
OP
Norbert and I met numerous times in Einsishein and elsewhere. Every time I found a Lunar or Martian meteorite, essentially in Oman at that time, I would reserve a nice slice or end cut for him. Every hunter or finder of planetary meteorites has crossed paths with Norbert in the past, which is how he has assembled the most complete lunar and Martian collection in the world, by far! Who else possesses in one collection the 3 SNC meteorites, Shergotty, Nakhla, Chassigny and the NWA7533?
OP
As a fellow collector, I could not turn down the opportunity to acquire Norbert's collection when he offered it to me last year. In this catalogue, I am featuring all of Norbert Classen's Martian meteorites.
OP
This collection has now become part of my own and some pieces, which are identical to some of my own, are available for sale. I would like to underline the fact that these  pieces have been proposed in priority to scientists and reaseachers studying Martian meteorites. I firmly believe that the scientific community should be served first in order to support research and these pieces will certainly contribute to the understanding of the history and formation of the planet Mars.
OP
Now, have a gaze at the fascinating and diverse colors and textures…
OP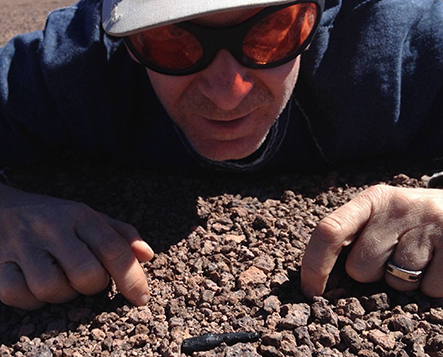 (Luc Labenne in full action !)
OP
- Luc Labenne
Martian Meteorites Collector....
OP
Home
Martian Meteorites
History and Origines
Sorry for the inconvenience.
Search again what you are looking for